From the same Netflix adaptation gravy train that brought us Riverdale and The Chilling Adventures of Sabrina, comes Brand New Cherry Flavor: a drama series based on the novel by Todd Grimson.  If you were to stand all of these titles together in a lineup, I wouldn't be able to identify the worst offender for half-baked expositions and shallow protagonists. Unfortunately, this is not a stand-out in its genre.
Brand New Cherry Flavor has been praised for its "uniqueness" among viewers and critics — I find this particular accolade a hard pill to swallow, as I can't help but notice this exact formula pop up again and again in recent years, specifically within series aimed at teen to young adult audiences. The most unnerving aspect of these recurring themes? A desensitization to abuse, violence and revenge. (Trigger warning for these topics as well as spoilers ahead)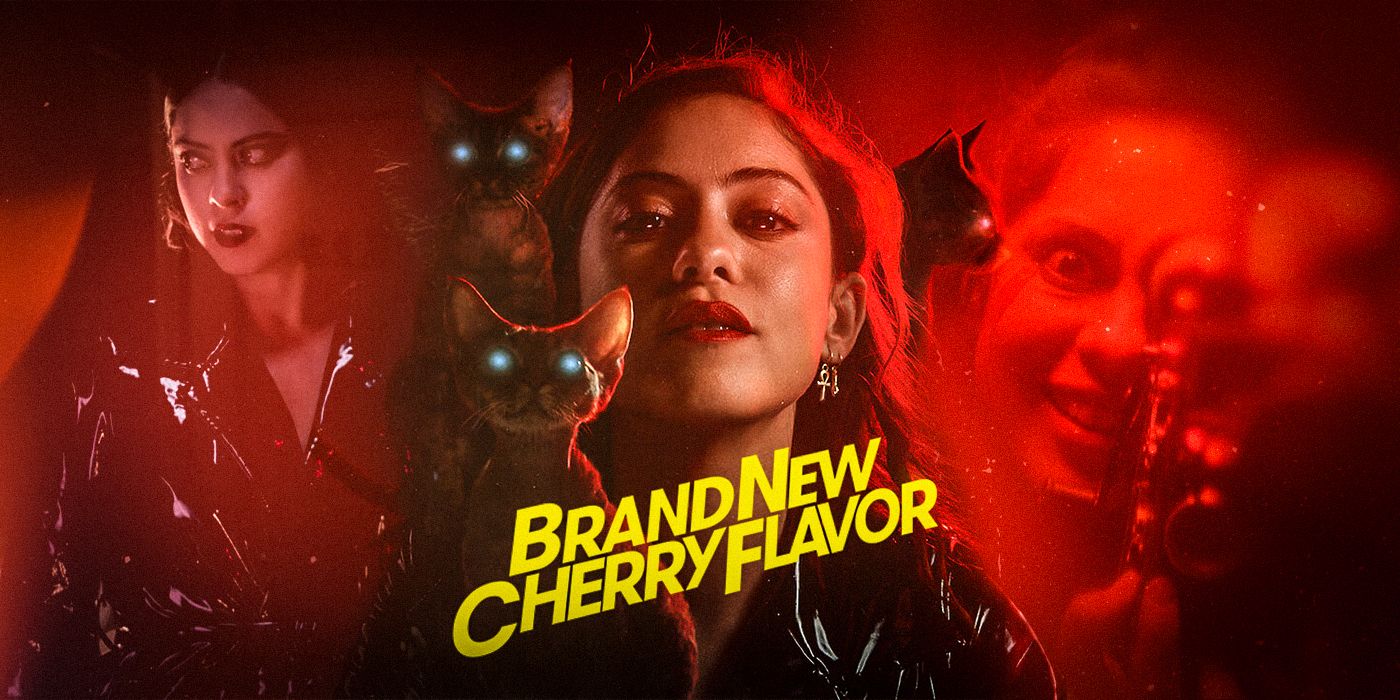 Lisa Nova (Rosa Salazar) heads to Hollywood to option the rights to her short film after being discovered by big-time producer, and obvious sleazeball, Lou Burke (Eric Lange). After their deal goes sour, she seeks revenge with the help of your local eccentric 900-year-old witch Boro (Catherine Keener). Connecting to the spirit world to accomplish her goals proves to be a huge misstep as the lives of everyone around her begin to go up in flames (there's a pun hidden here) in untimely and grotesque ways. 
From Kill Bill to Promising Young Woman, I can appreciate a well-done revenge flick with a strong female lead. Brand New Cherry Flavor tries to assert itself among the ranks of those instant classics with eerie supernatural elements and a complex cast of characters but under-delivers on every spectacle it attempts to execute. You can see its strain to be a timely commentary, but it ultimately becomes nothing more than an uninteresting, unhelpful contribution to the "Me Too" conversation by using abuse as nothing more than an inciting incident. The nature of the scene that contains Lou physically assaulting Lisa was incorporated into the episode in a thoughtless and jarring way. The intimate and excessive type of violence that is shown was not treated with appropriate care but rather tossed into a climactic moment in a ruthless, quick and dirty sort of manner. This does very little to serve the emotional impact of the harm being done, as well as degrades the issues of violence against women, violence in the workplace and just how hard it may be for viewers to absorb this sloppy and nonchalant use of brutality, especially in conjunction with Lou's unwanted sexual advances towards his young protégé. The cherry on top of this blunder? The two characters' interaction throughout the rest of the season is nothing more or less than casually cold as Lisa tries to exact her revenge. Their passive relationship is unsettling. Later in the season, their relationship evolves to a sympathetic one. Empathy and pity can be useful tools that lend humanity to a story. Here, they are grossly misused. 
Visually, this series falls right in line with what's on-trend right now for many Netflix dramas. I think at this point, we can all agree that blasting a scene with coloured gel lighting is not a distinctly unique or evocative style.
The fun tricks used in the production design and lighting read extremely well on-screen but hardly fulfill their purpose of trying to inject glamour into a lack-luster story with nothing to say. 
Truly, the saving grace of this show has to be the performances of leads Rosa Salazar and Catherine Keener. Despite the cards they're dealt, they are compelling to watch and bring the characters they portray to new heights. Salazar, as well as her co-star Manny Jacinto, are both fresh faces that are just getting revved up in their careers. I'll definitely be keeping an eye out for any future projects they are casted in. The pair play exes and friends in Brand New Cherry Flavor and unquestionably deserve better than this on-screen partnership. 
Brand New Cherry Flavor gives the impression that Lisa's story is only worth telling because of Lou Burke's betrayal and abuse. A character like Lisa Nova and her band of Hollywood misfit friends heed much less room for indiscretion — I would have much preferred to watch them all on their own. What we're left with instead are underwhelming "horror" and "revenge" factors that revolve aimlessly around stale, off-putting antagonists. To add insult to injury, the entire arc suddenly shifts mid-season into a weird, unnecessary sexual direction that I did not appreciate. Never before have I had to stop a show dead in its tracks to take a breather from the confusion and foolishness. I guess in this way, and only this way, it is unique. 
Unsubtle, unsatisfying, and unoriginal, the resolutions to this tale are weak and vapid, just like the Hollywood culture it mocks.