The first season of We are Lady Parts is a big win for fresh, new series and for representation. The seven-episode span of the new show follows five sensational punk-rock band members as they navigate their collective path to success as emerging artists, their individual growing pains as young-adult women, and how their devotion to their Muslim faith is incorporated into all that. 
This show scores major points in so many categories: characters, style, comedy, and diversity; an expert mix that reinvigorates the landscape of our watchlists. As a selling point to the masses, I'd describe the feel of this series as if 'Scott Pilgrim's heart grew three sizes' - if that film became an instant classic, well, so should this.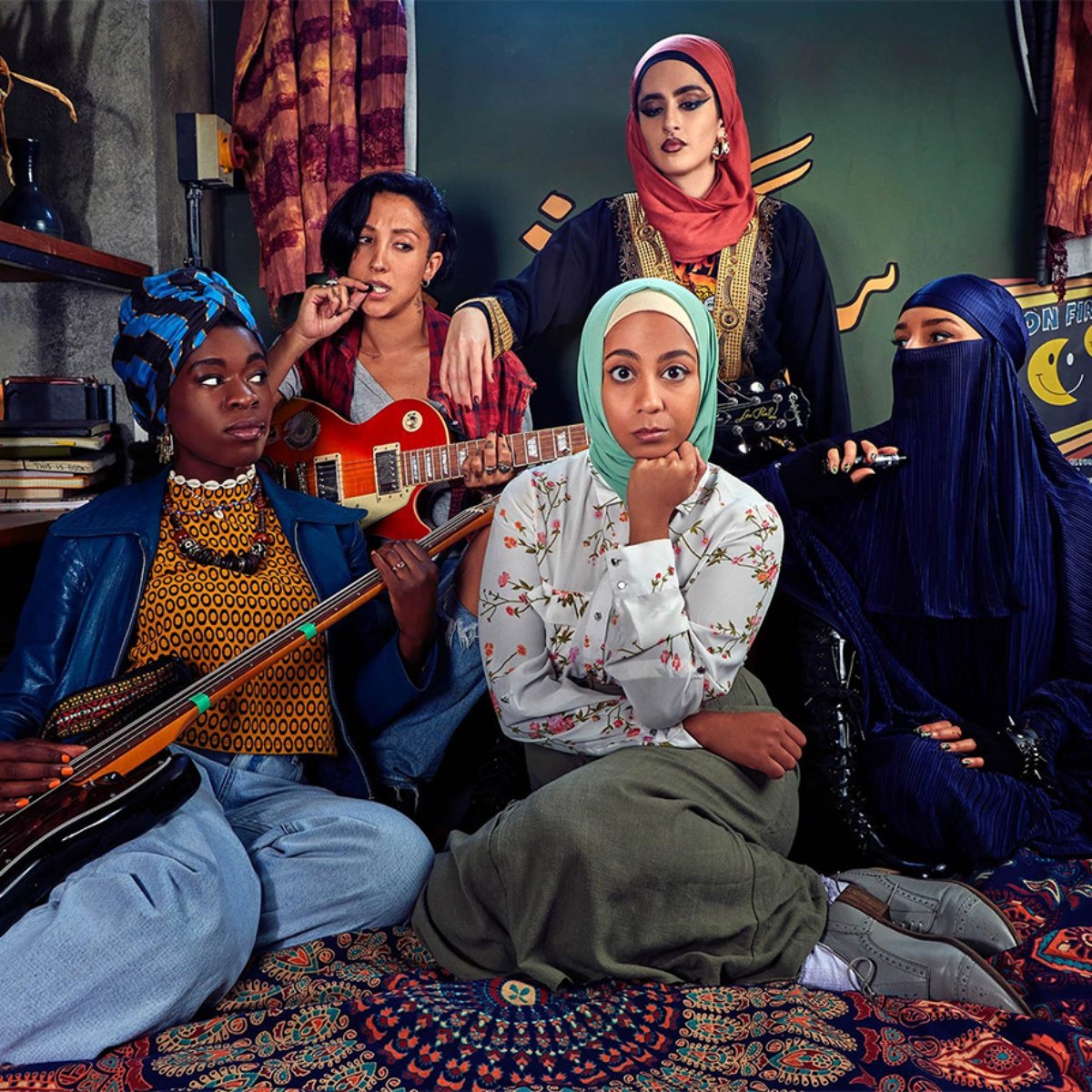 The heartbeat of the characters draws you into the story immediately. Once you get a glimpse of each member of the cast in the pilot, they leave you wanting more and more. The main character, Amina (Anjana Vasan) acts as our vantage point into the new and exciting world of punk rock. Her eagerness to express herself and stray from a life of Ph.D.'s and husband-hunting incites the dance of balancing expectations, culture and finding her voice. Vasan's performance is one of the best modern examples of physical comedy I can cite to date. Herself, as well as the rest of the women at the forefront of the show, each bring their own unique charm and vulnerability. They are creative, confident, and- in the true spirit of punk- defiant. The way in which this is displayed is so masterful- because, in the light of their individual challenges, they are "defiant" in the most productive way- never just vulgar or difficult for the sake of it, it is such a purposeful ingredient to their dynamic. This, in conjuncture with their vibrance and comedy, is so rarely seen in narratives surrounding Muslim women, especially when a strong commitment to faith is such an important element in the mix. Creators hardly attempt to have the two coexist- but do so effortlessly in this series.
The story and character development that creator Nida Manzoor cultivates as the season unfolds is dazzling. It is written to be compelling like a drama but simultaneously so witty. The quick zingers and expert pacing are non-stop entertainment. In addition to the music aspect taking center stage, I really appreciate that each member of the group has their own mission and motivation for growth that circles back to their involvement in the band. So many factors of the young female experience are explored, ensuring that each character is well-understood and multi-dimensional. The cast of characters delve into struggles with family, homosexuality, advancing their careers- even the side plots of various love stories add to the arc of the female characters as opposed to detracting from their purpose. The "villainous" characters are weaved into the story in a surprising way that utterly stings when the group is derailed. 
Most of all, the chemistry amongst the cast is off the charts, both when they are getting along and when they're not. Sparks fly with every interaction, and this is achieved by stellar performances and casting as well as inventive visuals and imagination.
A considerate influence on the story is that the subject of Islamophobia, prejudice, and racism do not take precedence over the women's goals and individual narratives- but it is by no means swept under the rug. Negative perceptions of the group are addressed in an honest and purposeful way that feeds into the story of their personal and professional journeys. The impact of the "People will see what they want to see" mentality does not define the group, but it is acknowledged and remains an important pillar of their experience. 
Very rarely would I describe a story about a group of punk rockers as "whimsical", but such an engaging array of visual and comedic components make this stand-out new series the star that it is. The energy that it radiates is so positive and spectacular, it is truly satisfying to watch this cast of women thrive in their element and come together to support one another. Breaking ground in messages of inclusivity, as well as the importance of staying true to oneself- values, art, and integrity- We are Lady Parts is an anthem: women who pray together, play together.