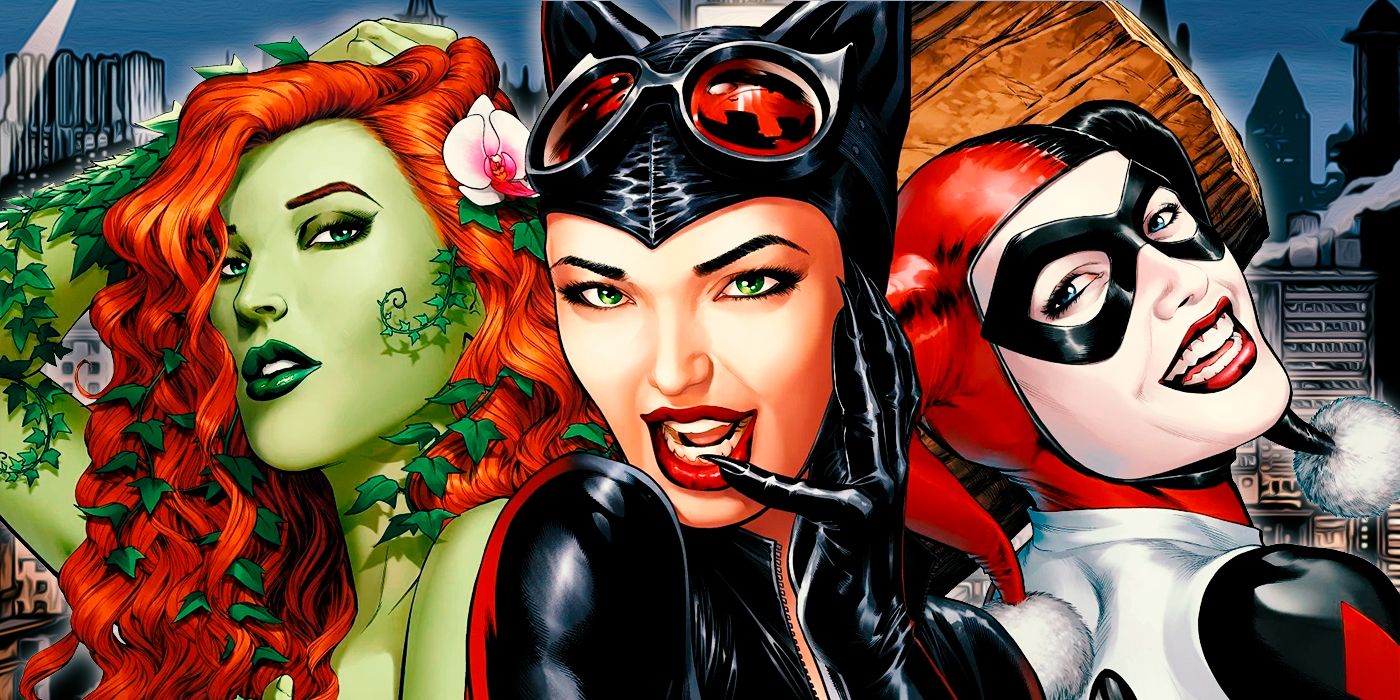 Regardless of box office, most agree that the recent Suicide Squad was a massive improvement and a welcome change of direction for DC Comic films. Once again, the character of Harley Quinn and the portrayal by Margot Robbie has been praised as a high point of the film, leading many fans to ask when we might get to see her team up with Poison Ivy and Catwoman for the long rumored Gotham City Sirens adaptation. 
I hold a very different opinion of comic book films and will openly say I think Birds of Prey is the best comic book movie to date. Yes, better than anything Marvel has done. So the idea of this movie is exciting and I want it to happen. However, I have seen several people voice James Gunn's name for the potential director's job. While Gunn no doubt knows his way around a comic book film, Gotham City Sirens needs a female voice behind the camera. So, on the chance someone from DC films is reading this, here are ten female directors who would be good choices for Gotham City Sirens.
Alongside each name I have included a film of theirs for those that maybe don't know these amazing directors.
10) Sofia Coppola
Few directors have the visual palette and pedigree that Coppola brings. All of her films have a  female perspective, and there's no doubt that she could bring that to the comic book world. Coppola is an Academy Award nominee for directing and a winner for writing, so it stands to reason her name would be desirable for DC. Coppola typically does small, indie films that are critical darlings but don't have mass appeal, so Gotham City Sirens could be a big career change for her.
Film to seek out: Somewhere
9) Ava DuVernay
DuVernay was long rumored to be a potential director for Marvel when production began on Black Panther. While that never worked out, DuVernay has also ben rumored to be crafting a comic book adaptation of her own. Her name is one of the most respected amongst directors working today, as she can interlace social justice themes in a way that few can. She could bring new themes to this trio and make the film more topically relevant. Her eye for craft and talent is also impressive.
Film to seek out: Selma
8) Olivia Wilde
Wilde was a breakout director with her debut film Booksmart and was often cited as a potential Oscar nominee. The film has gone on to be a cult classic amongst film fans. Wilde's second film, Don't Worry Darling, sounds like she will be stepping into a different genre and go for a bigger, blockbuster feel. It's easy to see why Wilde is one of the most exciting directors to breakthrough recently. Booksmart had so many levels of themes, from modern feminism to sex, peer pressure, etc. She has proven her ability to nail timing and themes, so seeing her with this property would be a thrill.
Film to seek out: Booksmart
7) Julie Taymor
Taymor is a legend amongst theatre fans. The woman has brought multiple modern adaptations of Shakespeare to life, but her most famous work continues to be directing the stage adaptation of The Lion King. She has also directed film favorites such as Frida and Across the Universe. Taymor has proven time and time again to be willing to go dark and use different visual techniques (such as puppetry, a skill she excels in.) Additionally, Taymor has been vexed by Marvel as she was the original director for the cursed Broadway musical adaptation of Spider-Man. Taymor was rumored to be fighting with Marvel executives over how dark the show could be, and was ultimately replaced. Giving her Gotham City Sirens would be the ultimate revenge, and an exciting chance for Taymor to take the dark approach she was robbed of with a comic book property.
Film to seek out: The Glorias
6) Lulu Wang
Wang had one of the best films of 2019 in The Farewell, the indie darling that made huge waves amongst film fans. Wang's ability to use minimal dialogue while achieving emotional highs is astounding. She proved herself to be formidable behind the camera and a once-in-a-generation voice. No doubt Wang would bring a necessary level of authenticity to any project she tackles, and a comic book adaptation would be wise to seek her out.
Film to seek out: The Farewell
5) Nia DaCosta
DaCosta has proven she can take an already existing character and give it new life. She did so with this years Candyman, a bold and thrilling new take on the horror character. She also proved herself to be a methodical director with her debut film Little Woods. DaCosta would bring some bold energy to this franchise, and she's already been tapped to do the Captain Marvel sequel. But if James Gunn can do both Marvel and DC, why can't Nia DaCosta?
Film to seek out: Little Woods
4) Melina Matsoukas
Few people have splashed onto the scene the way Matsoukas did with her debut film, Queen & Slim. Matsoukas previously was a music video director for Beyonce, and proved to be just as capable with feature films. Her eye for color and her ability to captivate with thrilling sequences make her an easy name to bring up when adapting a comic book. Matsoukas also knows how to incorporate music, which has been a highlight of several DC films and would prove to be a strong attribute with Gotham City Sirens. 
Film to seek out: Queen & Slim
3) Lorene Scafaria
Few people have ever had their work compared to the likes of Martin Scorcese, but Lorene Scafaria is one of them. Her hit film Hustlers was both an awards player, and a huge box office success. The story behind that film could've been campy, but Scafaria brought a level of respect and authenticity to it that made it come to life. Her characters had such beautiful depth and realness. Not to mention the film was a crime thriller, which is very close to what a Gotham City Sirens film would probably be.
Film to seek out: Hustlers
2) Emerald Fennell
Last year, Fennell joined a small circle of people whose debut directing job got them an Oscar nomination for Best Director. Indeed, her dynamic and amazing film Promising Young Woman was one of the most talked about films of the year, and she ended up winning the Original Screenplay Oscar over the likes of Aaron Sorkin. Her film proved to captivate a multitude of genres including thriller, romantic comedy, revenge, and feminist manifesto. She knows how to tackle dark subjects and ask uncomfortable questions, so any comic film she touches--especially Gotham City Sirens--would bound to be different and bold. It's no surprise she's already been sought out in some capacity by DC already for their adaptation of Zatanna. 
Film to seek out: Promising Young Woman
Before we get to number one, the following are some honorable mentions that could've easily made the list and could be still considered.
Jodie Foster, Elizabeth Banks, Dee Rees, Patty Jenkins and Kelly Reichardt
1) Cathy Yan
If you read the intro to this article, it should come as no surprise that my first choice is Cathy Yan, who helmed Birds of Prey and gave me my favorite comic book movie to date. Obviously, Yan knows how to craft a wacky story with adult themes. She has a great eye for color and character, and a great ear for music. Her visuals in the film were some of the most fun in the entire DCEU and her overall vision is the most original. In other words, don't mess with perfection. If you have a director that obviously knows the material and gives such richness to it, let them do it again. Yan also has the brilliant film Dead Pigs in her filmography, which proves she has a huge range, so no matter the direction DC would potentially take with Gotham City Sirens, Cathy Yan is the woman for the job.